This dresser was inspired by the Martha Stewart dresser pictured here....
I was very apprehensive about putting upholstery tacks into a perfectly good piece of furniture, but it was already painted before I got it anyhow, so I convinced myself to go for it. Especially after seeing Ann Marie's desk at
Twice Lovely
. Look at this piece- gorgeous!!
Here is a before shot of the dresser I was working with..... sorry the drawers were already out.
Oh, and here is what the knobs looked like. Gross. But it was $20 at a yard sale, so that made up for it.
I didn't have a template and I don't even have a printer to print one out at home, so i decided to go with "a, b, c, d". I chose all lowercase letters simply because it looked more understated and "nursery". After the dresser was primed and painted (my favorite OOPS aqua!) and dry, I drew each letter with a pencil. If i needed to erase, I simply used Minwax paste wax to buff out and it worked well. Once the letters were drawn on, I got my hammer and my tacks out. Silly me.... I looked at the large "Value" box of tacks I had purchased at Hobby Lobby back when I lived in Louisiana and near a Hobby Lobby, and thought, "Oh yeah, there's plenty in there!". After bending a few in the process, I ran out after I had "a, b, c, and l".... I only had enough to make the line of the "d". Whoops. So as I mentioned there is no Hobby Lobby near us, so I headed to Joann's last night after my son's preschool graduation. Yes, I am crazy! They didn't have the size I needed in antique brass, which is what I was using and loving the contrast and tying it in with the antique brass on the knobs I chose. I headed do Hancock Fabrics, and again, they were all out of antique brass. That was my last hope, so I purchased the shiny brass and had to paint them. Of course, most of mine were already on the dresser so I had to prime them and paint them while on the dresser. I am happy with how the piece turned out, but lesson learned! If you are going to plan an elaborate design using buttons, tacks, or little pieces, make sure you have enough for goodness' sake! Learn from my mistakes, so you won't be going out at 9 pm already an emotional wreck because your baby just graduated preschool..... wow!
Anyhow, I know you all want to see the after pictures, so here you go!
linking to...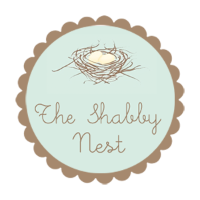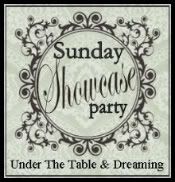 href="http://iheartnaptime.blogspot.com">
src="http://i339.photobucket.com/albums/n454/jamielynnye/blog_Page_01-2.jpg"
height="125"/>