I asked you all the other day what you would do with it... the "it" being the auction winnings that came home with me on Wednesday. I started by working on 2 of the dressers. They are both done, but I want to reveal one at a time. It's more fun that way, isn't it? So let's begin with this one, because it was the one I was most excited about!
I wanted to do something bold and different. Different being a color or technique I had yet to try. Several of you said it should be painted black, white, or gray. If you said that, you were pretty darn close... I chose a color from Sherwin Williams called "Peppercorn" which looked the closest to charcoal gray that they had. I chose a matte finish as I wanted it to be a dull finish, and I planned to paint the hardware with a semigloss white so contrast the dresser. For the hardware, I used an all purpose spray primer and then went over that with Krylon's semigloss white. I left it undistressed for a more modern feel. It has kind of a Dorothy Draper feel to me. I love it, but was shocked to hear my husband say he really liked it and that he was a fan of the color. My husband typically refrains from comment. So that was a huge compliment! Anyhow, here it is and I can't wait to hear if you are a fan of the color like my husband and I are!
Donna at Funky Junk is asking what our most favroite-est project is... i couldn't pick since i like a bunch for different reasons, but this is my husband's fave, and a recent fave of mine!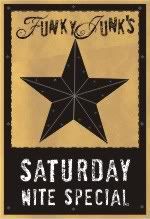 Linking to...