So progress- my POWW post went up as scheduled, but this one did not. It's a step, right? I have been having so much fun with this Color My World challenge. So far, I have shared a little
decor project
in the mantle department, painted
dining room chairs
, and a new
blogging desk
for my living room. This week the project was fabric. And truth be told, this was actually the first project I completed. When I heard about this challenge, I went to the fabric store immediately in search of coral inspiration. I searched and searched and then finally found it in a cool graphic print of the reddish coral I was going for and orange on a white background. It was perfect because the living room already has orange backing the
bookcases,
so it tied in beautifully. I used the fabric to make two new pillows for our couches. Here they are in action!
Here you can see I took the bunting out of the dining room and added it to the mantle to bring in some of the yellow.
Yes, I know the dogs are in there... but my eyes were on them when this photo was taken!
I just love my blogging nook! And do you see some new additions to the area?
I found these gold hummingbirds for 10 cents each at the thrift shop. I intended to use them in
Emmy's room
, but I loved them here!
I also added some fresh flowers. I found that cute little green pitcher at an estate sale last week. We have some
weeds
wildflowers growing and I cut some to fill it. And of course it's allergy season, so we need tissues in every room!
I have had so much fun participating in this challenge and bringing more color into my life! Remember, next week is your chance to link up and share your own projects where you have added a color you usually shy away from. I can't wait to see it! And be sure to check out all of these awesome bloggers who are also sharing their fabric projects today...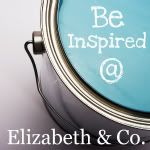 Jennifer Rizzo's POP OF COLOR party