If you have been reading this blog for a while, you may recall last year when I decided to give Emmy
my old dollhouse
from when I was a kid. I thought that she was ready, but I think I jumped the gun a bit. Between her and her friends, the play was just too rough... furniture was breaking, a metal birdcahe was squashed, and the front porch was falling off. When I saw the porch come off, I decided I had to take it away, but I told her I would save it for when she was a bit older for us to have as a Mommy/daughter project. She was devastated and I felt horrible. This happened early in December, so by then all big Christmas presents had been purchased, but I had not known what I would do for her birthday (which is tomorrow), and knew a new dollhouse that she could really
play
with would be perfect! I looked online- I knew I wanted a solid wooden one that could handle her and her friends. I found a few that were OK, but not perfect, and if it was going to be in her room for a long time, and I was going to pay a lot for it, I wanted it to be perfect!!! I found the adorable
Land of Nod dollhouse bookcase
which I thought was perfect- aside from the size and colors.
But I loved the idea of a dollhouse bookcase that could be used just as a bookcase when she outgrew playing with her dolls.
Enter my AMAZINGLY talented neighbor who built
my headboard
, and has also started building amazing
salvaged pieces for the barn
. I emailed him just before New Year's and asked him if he thought he could build it for me with the size I needed. I also found the
plans for it on Ana White's site
, and shared those with him, and provided him with the dimensions I needed. I told him no rush, I could just show a picture to Emmy on her birthday. Well, guess what.... he finished it this past weekend and I picked it up Monday after the kids got on the bus. I wasn't going to show you the before because it was just a plain wood house, but then I saw the ugly linoleum, the hello kitty slipper in the background and i couldn't NOT share it. Keepin it real!
I have been painting and Mod podging fun paper on it in secret. I cannot WAIT to see her face tomorrow when we present it to her!!!!!
On the top floor, there is a vintage fee bohemian paisley paper, and a funky curvy chevron type print.
Can you see the paper behind the vanity there? It's bicycles.... I had to! And on the right polka dots, which Emmy loves.
And on the bottom floor, a fun tree print on the left, and one that I selected just for the kitchen....
How cute is it with the little whisks at the top....
And measuring cups at the bottom? Love it!
You may have noticed some furniure in there, too! I went through the existing furniture we had on hand and pulled out the pieces that I thought were sturdy and usable.
Gwen
gave her. I used old white chalk paint on the table, and provence on the chairs, and distressed and waxed it.... just like big people furniture!
And I had found this little vanity at a yard sale.... isn't it sweet with its new paint?
She will also be receiving much of the furniture for her birthday from friends and relatives. Sawyer si giving her a set of wooden dolls.
Is it the 17th yet, because I just can't wait to give this house to her!!! And if you are local and looking for a dollhouse bookcase, feel free to email me at cassie8978@gmail.com for pricing! Happy Wednesday!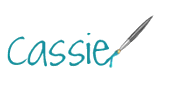 Sharing here: